Address
283 Elizabeth Street
Brisbane, QLD, 4000
Opening Times
Phone bookings: Monday – Friday, 8.30am – 5pm.
Clinic appointments: Monday – Wednesday, 7.30am – 5pm.
Services
Access
Our Brisbane CBD clinic is conveniently and centrally located right in the heart of the Brisbane CBD.
Please see below information for your convenience and use the "Journey Planner" tool on either Google Maps or www.translink.com.au for further assistance.
Train: Our clinic is a short 400m walk from Central Station.
Bus: Bus stop locations depend on the origin of your journey. Our clinic is located in close proximity to multiple bus stops. Please use a "Journey Planner" tool to learn more.
Ferry: Our clinic is located a short 270m walk from the Eagle Street Pier Ferry Terminal.
Car: At 246 Elizabeth Street, there is a public "Secure Carpark" (opposite St Stephen's Cathedral, a few metres from the corner of Edward and Elizabeth Street). Parking is also available in Charlotte Street (behind St Stephen's Cathedral) and in the Riverside Centre (on Eagle Street).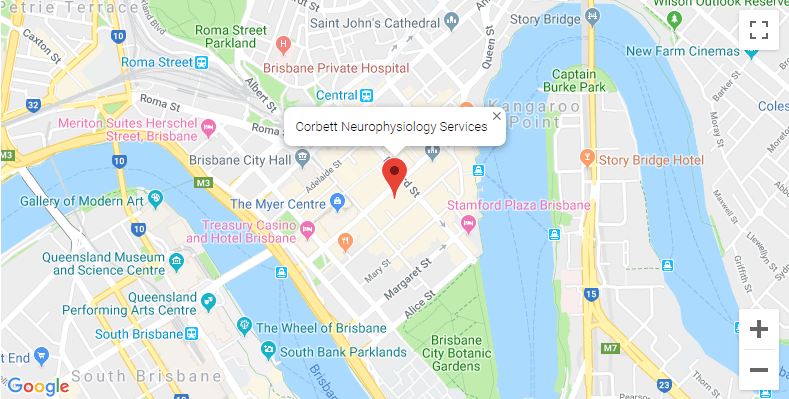 History
Formerly known as "Telecommunications House", this building was erected in 1906-09 by Claude Chambers as the headquarters and club room for the Commercial Travellers Association (CTA) of Queensland. It is now known as "Corbett Chambers". On the 5th April 2004, it was added to the Queensland Heritage Register.
Read more about the history of the Brisbane building.