Posted: 19th September 2019
Posted in: News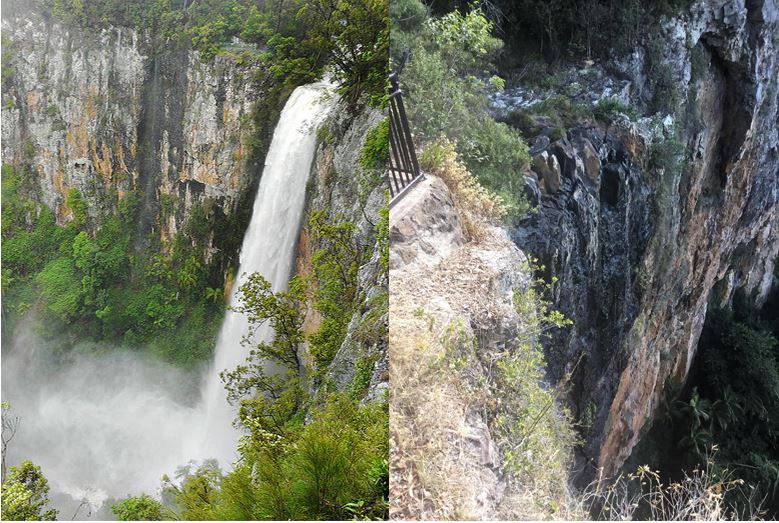 Corbett Neurophysiology Services are the proud custodians of several Heritage listed buildings (including our Brisbane and Southport clinics), which are maintained with love. In fact, we are passionate about the preservation of all Heritage sites – both man-made and environmental.
As such, it saddened us to learn recently that the ancient Purlingbrook Falls in Springbrook are facing devastation. We want to spread the word before it's too late.
The Purlingbrook Falls are drying out – not simply from drought (as you'd expect from recent weather); but sadly, from human interference. Specifically, the practice of 'water mining'.
Excessive water mining has recently occurred and a formal application has even been made by a corporate enterprise to the Gold Coast City Council to extract up to 80,000 litres of water per day. The water table is already at its lowest ever point and further water mining could have a permanently devastating effect – not only on the Falls, but also on the surrounding Heritage Rainforest.
Water mining involves the extraction of water from underground bores, which tap into an underground river matrix. (Although Purlingbrook's water is marketed commercially as 'spring water', it is in fact bore water.) This process of extraction has a flow-on effect for flora species throughout Springbrook (which rely on the water to nourish their roots) and subsequently fauna (which feed on the flora).
The Gondwana Rainforest surrounding Purlingbrook Falls is one of only 15 World Heritage Places listed on Australia's National Heritage List and is home to countless rare and endangered species. Sadly, 74 species of flora and 31 species of fauna within this rainforest are also on another list – the Endangered Species List. They are already fighting for survival against the devastating effects of global warming and require immediate conservation measures, rather than environmental disturbances or harm. Without immediate action, the damage to this ecosystem may be irreversible!
So, next time you purchase a bottle of 'spring water' that has been mined from Springbrook, please spare a thought for the species that reside there and their reliance on the water supply from Purlingbrook Falls – one of our region's greatest natural resources.
In fact, the water from Purlingbrook Falls can actually be enjoyed for FREE from the convenience of your own tap, as it runs down Springbrook Mountain and off into Hinze Dam, which is the main water supply for the Gold Coast.
Another issue to consider is the recent devastation seen in the Gold Coast Hinterland and Scenic Rim, caused by one of QLD's worst-ever bushfire seasons, on the back of one of its worst-ever droughts. Several heritage-listed sites (such as Binna Burra) have already been completely destroyed. The drought may continue to cause more bushfires over the coming seasons. It is therefore prudent to prepare for such weather events and to ensure that no further damage and risks to Heritage sites occur. This means ensuring bush and forest areas are not excessively dry and that we preserve all existing water reserves. (Springbrook was spared from the last spate of bushfires, but may not be so lucky next time!)
Much of the Gold Coast's water supply has already been exhausted through drought and in fighting the recent fires. Many of the bores in Springbrook have already run dry, which has consequently affected the water flow into Hinze Dam. It is widely expected that the city will face ongoing water shortages and restrictions. As such, the preservation of any existing water reserves is imperative, particularly if there are more fires to fight, which will require extensive water usage. Additionally, many homes in Springbrook rely on bore water day-to-day.
Many local farms are also struggling due to the recent devastation – farms that produce stock which locals and the wider community are dependent upon. These farms are heavily reliant on local water supply, including bores and the water flow from Purlingbrook Falls/Springbrook Mountain. Their livelihood needs to be protected. During the last drought, many Springbrook residents had to purchase large quantities of water, which placed a financial burden on households and farms alike. As the supply of water decreases further, prices inevitably increase; making it even more difficult to survive.
Then there is the issue of commercial trucks gaining access to Purlingbrook Falls. The only road in and out of Springbrook is windy and narrow (with a width of only 5.5 metres). It is already unsafe in some areas for smaller vehicles to pass in the opposite direction. The road is also used by hikers, cyclists and wildlife alike. Adding wide trucks carrying heavy loads along this road multiple times per day will not only prove unsafe, but create further wear and tear on the road to an already fragile environment.
With all of this in mind, as fellow locals who appreciate the beauty and utility of our natural surrounds and resources, we ask you to please visit https://savespringbrookswaterfalls.com/act-now/ and object to the development application for water mining at Purlingbrook Falls, before 1 October 2019. More information and details are provided on this site regarding how to draft and submit your objection.